All you never wanted to know about each and every band member of The Dick Ourada Band. (and then some.)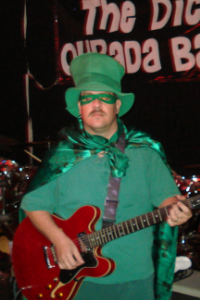 Dick Ourada
Who is this guy? Well it's complex sometimes because you don't know which Dick Ourada is going to show up in what set. With a cast of thousands, Dick enjoys dressing up in character on stage. Be it the "Bohemian Elvis" or "Poop Pants The Clown", he's ready to rock and put a smile on people's faces. Mostly self taught with a little help from Mel Bay, Dick says the movie "A Hard Days Night " featuring The Beatles, is what made him want to entertain people. Some of his highlights in life include being on cable's "Color T.V." show, singing "Hound Dog" in front of 20,000 people at the United Center in Chicago, and of course the 1987 Alpine Valley run by the Grateful Dead in Wisconsin. His own personal favorite songs include: 1989's "Crawlspace of My Mind", 1997's "Crystal Ball" and "Feel The Mustache" in which he co-wrote with Ron Rydin in 1999. Dick has been married to wife Susan for 18 years and has a son James. They reside in the suburbs of Chiago. In his spare time he likes to watch the Chicago White Sox and travels to Arizona for baseball spring training every March.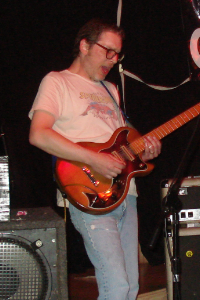 Ron Rydin
As the musical leader of The Dick Ourada Band, Ron has the task of putting up with everyone elses inability to take things seriously. His alter ego "Chris P. Licks" is more of the layed back type. Ron's rock 'n' roll life began in 1983 when he was part of "The Shade", a group he started with fellow L.T. High School alums Scott Jarrette & Tony Millincamp.
The Shade rocked Chicagoland for 11 years and brought a lot of fun to people's lives. Upon graduating with a degree in music composition from Columbia, Ron joined up with a band called "Creek Ramsey" from 93′-95′. They had a CD that made it big in early 92′ around the "Bucktown" neighborhood of Chicago. Ron studied under Daryl Thompson with The Beatles and Phish being just a couple of his influences in music and life. In his off time, Ron enjoys drinking Fanta Red Cream Soda while watching Spiderman shows on T.V.
Ron is single and ready to mingle.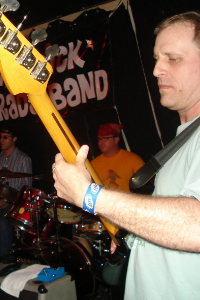 Russ Rydin
Russ Rydin has given no information about himself. His present whereabouts are unknown.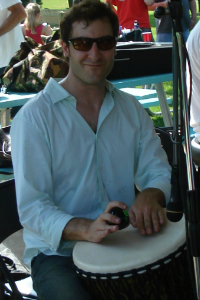 Randy Ourada
Randy is a born musician, and music has always been a huge part of his life. He started playing drums at age 5 and has been a part of several groups, including a Grateful Dead tribute band called "High Time" in the early 1990's. He studied under the late Chicago percussionist Chick Evans for many years, and calls him one of the all time great drummers from the 20th century. Known as the mysterious one in the D.O.B., Randy rarely tells people what he's up to, and when he does, its hard to comprehend. His influences are Bill Kreutzman & Mickey Hart from The Grateful Dead and Ringo Starr. In his leisure, Randy enjoys riding motorcycles across the country with his Dad.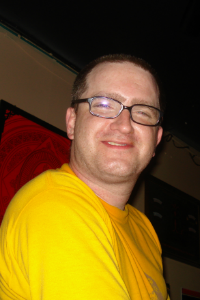 John Kienzle
John Kienzle is a lawyer who still can't figure out how the D.O.B. stays together, even though he keeps showing up to practices and shows. Known as the smart-ass of the group, John met Randy Ourada back at L.T. High School in LaGrange, IL. and joined him in the Grateful Dead tribute band "High Time". Besides playing in the D.O.B.-John likes to build models of the venues the band plays at in hopes they will encore with "Godzilla" and Dick Ourada will smash it to pieces. Some of John's songs include:"Mungai" and "Vulcan", the later an anthem about why the famed Route 66 stops abruptly in Hodgkins, Illinois.  John was recently married to a girl named Susan and they like to watch Star Wars movies together.
?????
Random Musical Guests
You never know who is going to take the stage with us, at any given show.
In the past, we have featured the likes of  Brian "Saxamaphone" Simone, Andy "The Big Deal" P, Jeff "Cesar" Cesario, Dennis, "Cash" Kairis and Phill "My Pockets" Caruso.